Moving all your belongings to a new home involves a series of time, planning, organization and costs. In general, how much does it cost to make a move from a 2-bedroom apartment? The price of a move ranges between $300 and $2,000. Let's look at the factors that influence costs depending on the moving options.
If you want to get the budget for your move directly, don't wait any longer:
How much does a move cost with a professional moving company?
In US, there are different types of moving companies, some a little cheaper than others, which also affect the quality and guarantee of the service. We must not forget that they will handle our belongings.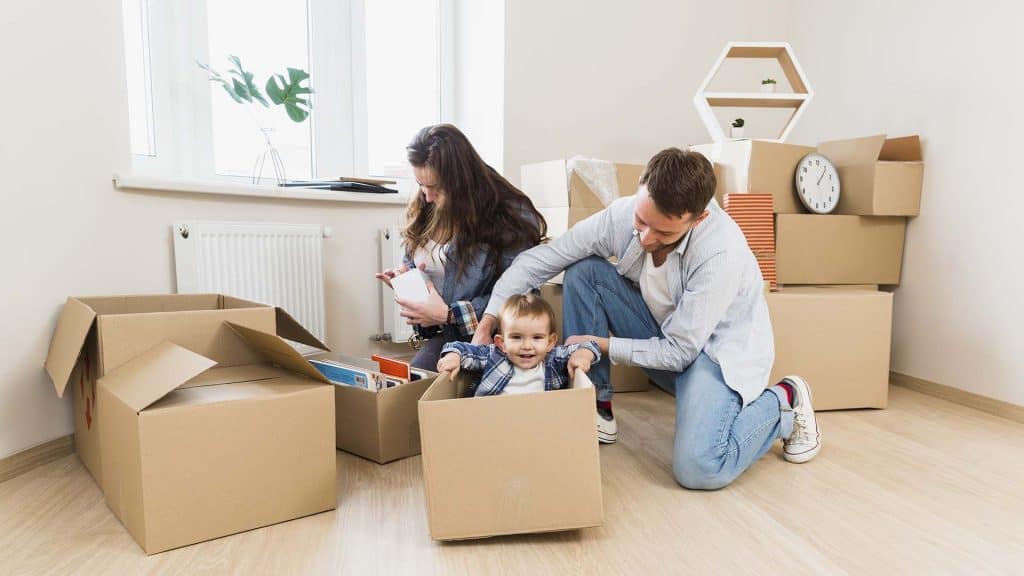 When we request a moving estimate, it is very important to take into account whether civil liability insurance is included in the moving price to cover possible damages or mishaps. These types of issues, as well as the experience of the company, the professionalism and quality of the service, are reflected in the price, and you will also see it reflected in the treatment and care of your things.
As a general rule, the approximate price of a move with a good moving company will be between $600 and $3,000, and it depends on a series of factors:
Factors that influence the price of a professional move
Volume of the move:   the space occupied by the things that we are going to move. It is measured in cubic meters and charged per M³
Distance between the old and the new home: Normally, when the distance is more than 50 km, an extra fee price per km would be charged. In addition, possible tolls must be added, depending on the route.
Accessibility of both houses: if it is necessary to rent a crane, the hourly price of renting a crane would also be considered.
Necessary personnel: depending on whether you bring help from family and friends. There would be a price for renting a van with one worker.
Time of the year: removals made at Christmas, Easter, summer, or during the weekends, are approximately 20% more expensive.
Place of the move: depending on the city or community in which the homes are located, the costs may also vary, especially in capitals and large or coastal cities.
Civil liability insurance (recommended): approximately a percentage of between 1.5 and 5% of the price of the move.
Extra services: depending on the service required, we can establish approximate prices:
Packaging services: This would be charged on hourly basis.
Assembly and disassembly of furniture: Hourly basis
Packing boxes: Charged per box
Loading and unloading: hourly basis
Transport of special elements (consult in each case)
Parking permit management: Depending on your location.
Storage services: Charged based on meter square M2
Average price of a professional move
Hiring a moving company for transportation, without packing services, furniture disassembly or other extra services, the average price for a 2 bedroom apartment is approximately $560 – $2,700
If you decide to do the move yourself, you will need to take into account the costs of packing, renting a van, and, if applicable, extra services that you will also have to hire yourself. Usually, due to the time and effort involved in moving, the cost savings of moving yourself (unless you have transportation and lots of good friends) isn't always worth it.
So, how much does it cost me to make my move?
We have seen the factors that you must take into account and we know that the average price of a move is between $600 and $3,000, but what is the price for your particular move?
A good start is to request for moving quotes online. Thus, you will be able to quickly obtain an estimate of how much it will cost to carry out your move.
Site like dynamic moving does it better. If you click on the form you will simply have to fill in the important information to calculate the approximate price of your move: addresses to calculate the distance, type of home and number of rooms, and, where appropriate, extra services you need.
This information is immediately sent to various moving companies in the area where you are located, which lowers costs, since the company does not have to travel long distances to your home. Once the corresponding estimates have been made, the companies will send you their budgets to your email inbox. It's that easy and simple, you don't have to do anything else to get an approximate idea of ​​how much your move is going to cost.
Obviously, the prices obtained in the online quotes are not exact. To obtain a more accurate quote, it is necessary for the moving company to visit your home, either physically or online (via Skype, for example). Thus, they will be able to faithfully check the quantity and volume of the packages, as well as the accessibility of the home
There are companies that make binding estimates, since they request more detailed information online, with an inventory of the house, including the possibility of adding photos of the objects and special instructions. In these cases, although the price will be quite specific, it may happen that the final price is higher once the move is actually made, or you may pay more than was really necessary.
For this reason, the best and most intelligent thing is to make a comparison in several moving companies and with enough time in advance. Thus, you will find the most suitable offer for you.
Organizing for a move
How can I save on my move?
We cannot conclude this article without sharing with you some tricks to reduce costs in a move. We tell you:
Choose a moving company in your area.
You won't have to pay for everything you do yourself during working hours: if you can, do the packing, disassembly and assembly of furniture, loading and unloading of boxes…
Companies charge by volume, not by weight, so try to fill furniture drawers and suitcases with clothes or things that won't break, and you'll save on boxes and volume.
Do not wait to unload the boxes or take them to the street, do it before the means of transport arrives, to save time and money, and ask someone to help you watch them.
If you are going to move to a high floor, consider renting a crane, it is an additional expense but you save many hours of work.
If possible, move during the week and on weekdays, as it is cheaper.
Plan which roads are the fastest and cheapest, and at what time they are less crowded, every minute counts!
Don't wait to find a spot or park anywhere. Be prepared where the van is going to park, because it can also be expensive in terms of fines or parking meters. Normally, there are always free loading and unloading parking lots on weekdays.
Compare budgets and choose the one that best suits you, don't stay with the first one you see.
Do not save on insurance, it is a small expense that will prevent much larger losses.
We hope that the information has been useful to you and that you find the best moving company for you.
Have you already requested your moving budget? Do you still have any doubts? Leave us a comment, we will be happy to help you!